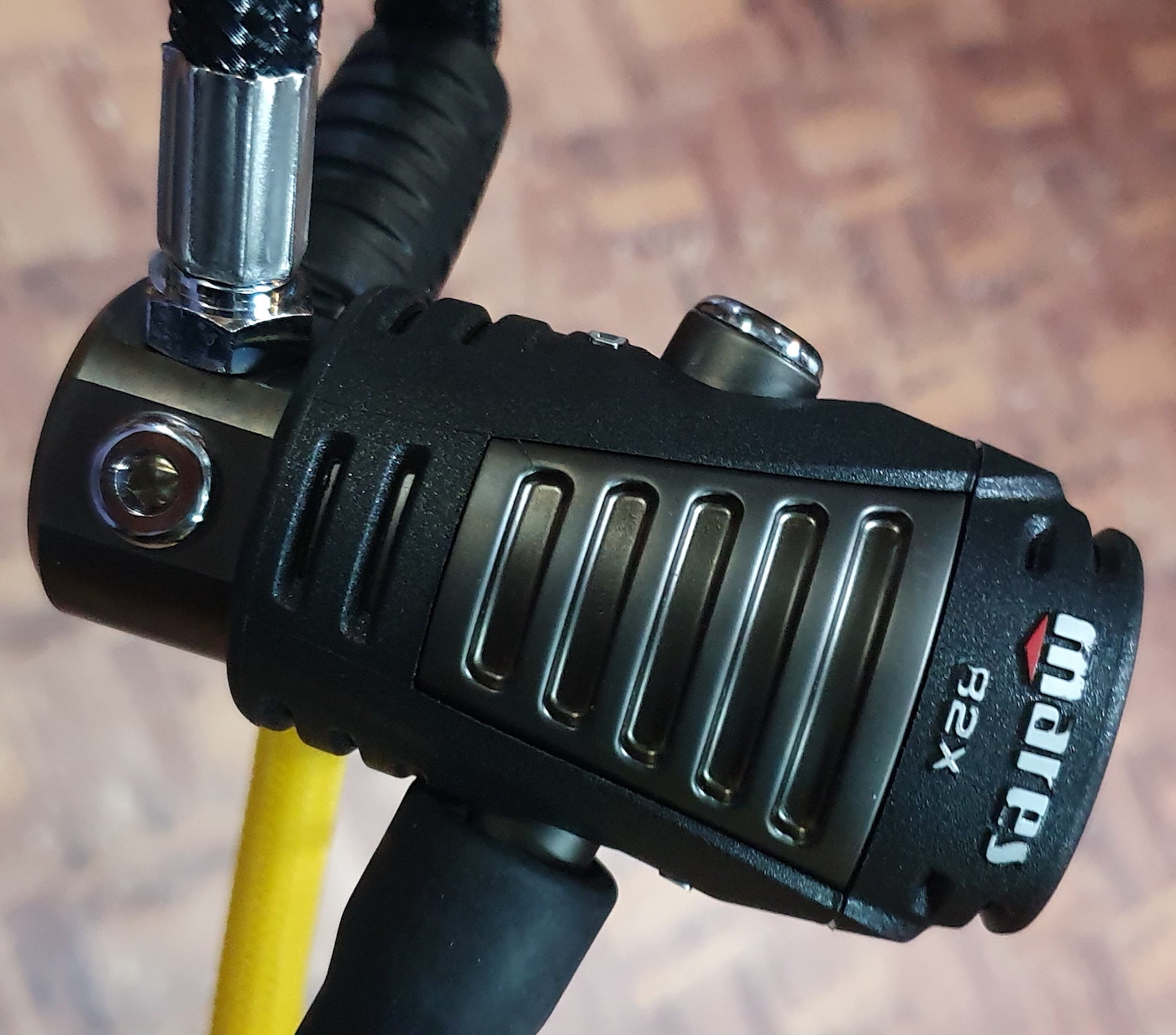 Testers:  Devatva Raj, Arijit Dasgupta
Article Text:  Vinnie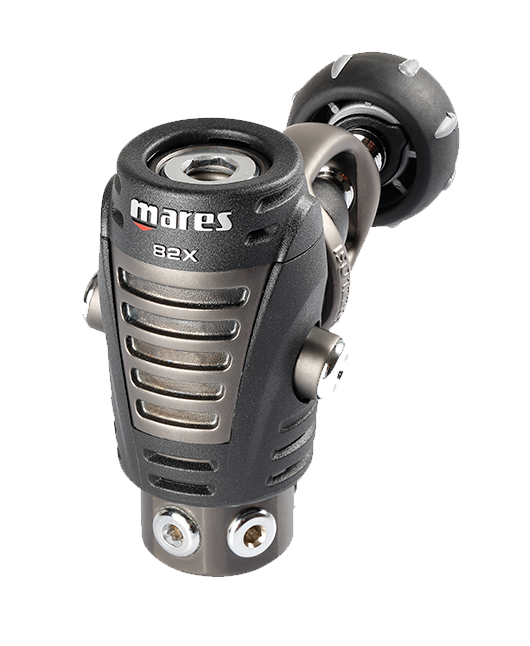 The Mares Epic ADJ 82X is the new heavyweight (in more ways than one) from Mares – their top of the line regulator.   As per Mares, it is certified for performance at 200m and proven to work at 400m and so of course, in true Mares fashion, they advertise it on their website as going "perfectly with the SSI Advanced Adventurer" course.   Cos, you know, nothing pairs as well with learning to dive to 30m as a top-end regulator designed to perform at the depths of the human ability.   I am sure the fact that Mares now owns SSI has nothing to do with this forced bit of cross-promotion.
Anyway, back to the regulator.   We tested the regulator at depth, and also compared it to our 2 benchmarks, the Aqualung Mikron (which is currently the easiest-breathing regulator we have ever tried) and the Apeks ATX (which, despite being a supposedly "entry-level" regulator, is my personal favorite as the best-value regulator in the market, period).  We also added the Mares Abyss (their former top-of-the-range model, used for a world-record-beating deep down to past 1000 feet) to see if the new boss was the same as, or better than, the old boss.      So read on.
Disclaimer:  this regulator was provided to us for testing, with the understanding that it would be sent back afterwards.    Whether we buy or test, our reviews are as honest as we can make them.   Unlike magazines who get their money from manufacturers and other advertisers, and so have an incentive to say positive things about everything, we do not get any financial benefits from anyone for our reviews.    Our organizational philosophy is to bend over backwards to make sure that we offer you the best advice (and service) that we can – after all, it is your choosing to dive/get gear from us that keeps us afloat as a business.
FEATURES 
The Mares website touts a lot of features, and is packed with TLAs (Three Lettered Acronyms) which make things sound very profound.   You can GRT (Go Read That) if you want to KST (Kill Some Time), but we'll SIU (Sum It Up) for you.
The first stage is very sharp-looking balanced diaphragm design (pretty much the de facto standard for most high-end regulators), with a black coating on both the first and second stages.    This coating is done via PVD (Physical Vapor Deposition – a legit TLA, in case you were wondering), and not regular electroplating.   Why does that matter?  Because PVD coatings are typically a lot more resistant to scratches than simple electroplating, and is a better option for a piece of gear that is going to get banged around, jostled, rub against other metal, etc.:  it reduces the chances of unseemly scratches exposing the shiny metal below.      Further, the first stage isnt a simple cylindrical tube like most first stages, but has some decorative contours and curves on it, and in terms of looks, this is one the nicest-looking regulator that we have seen.      It is definitely going to turn heads on a dive boat – I wanted to buy it purely based on how nice it looked!
Moving in to more practical features – the first stage comes with 5 3/8" LP ports (4 on the sides, 1 vertical – possibly for that weird TIE Fighter style Mares Loop second stage, where the second stage hose comes from directly under the second stage and not the sides like normal: a design that carries on the proud tradition of the Mares Hub).   The 4 radial ports are on a swivel turret – a fancy way of saying it moves around – which reduces strain on the hoses and allows for more flexible routing.   The two 7/16" HP ports are also tilted – one downwards, for attaching a traditional SPG and one upwards, presumably to fit a remote air transmitter for your computer of choice.   The ports are also at a sensible enough distance that they are all usable (which is not true of atleast 2 other regulator models I can name).    Nicely done, Mares – perhaps you guys are ready to offer a scuba training course on product design now (SSI course, of course!).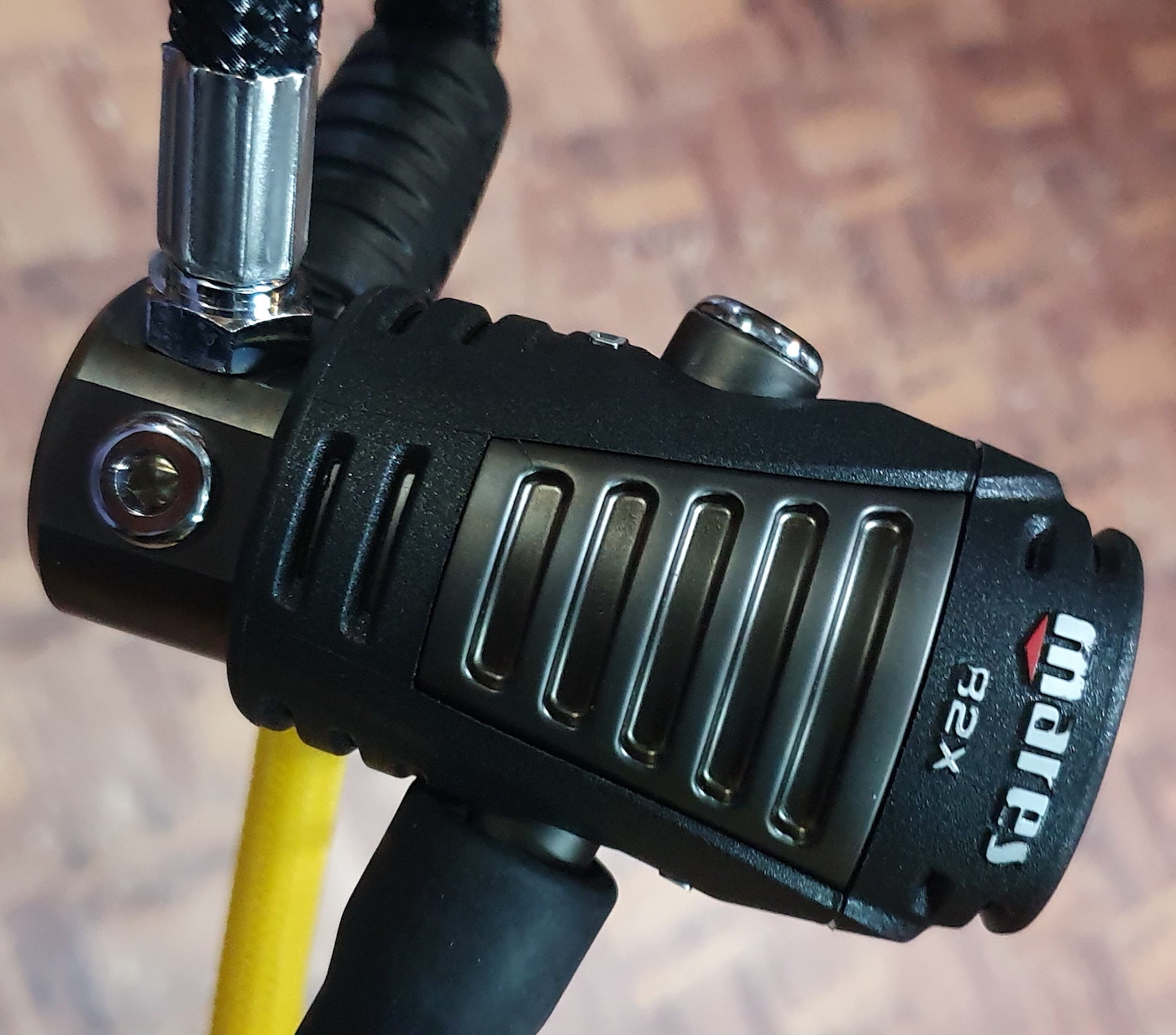 First Stage – you can see the 2 differently-angled HP ports
You down with OPD?  Yeah, you know me.   Oh, and swivel turrets are good
Like the first stage, the second stage is also made of nickel and chrome plated brass, which is then also given the same PVD treatment.   It contains two adjustment mechanisms:
– A flow control knob at the junction between the first stage and the second stage (aka, VAD):   one position delivers maximum air flow, the other reduces the air flow to provide more of an on-demand breathing experience
– The left side of the second stage also has a more traditional breathing resistance control knob, which affects the amount of breathing resistance before the regulator supplies air.
Why would you ever want this to be anything less than maximum?    For one, regulators with very low breathing resistance/very high flow rate can often free-flow when held upside down.   Second, if you are a slow, deep breather (as you should be!), you dont want the regulator to pump out a lot of air – you want the air coming through the hose to match your inhalation duration and lung capacity.   More is better than less, but "just right" is even better.   Ask Goldilocks!     I generally tune my own regulator to have slightly lower flow rate and also a higher cracking pressure, as i want my inhale to be a measured process.    However, it is always nice to know that a lot more air awaits, merely a couple of knob turns away.
Like the sealed first stage, the second stage is also rated for cold water diving, and as is increasingly becoming the norm for top-of-the-line regulators, Mares provides a superflex (weave) hose as standard with the regulator.      So all in all, you have a very well-specced, well-designed and smart-looking regulator, as one would expect from a top-of-the-line model.
You can see the flow rate controller (VAD) and breathing resistance control knob above
About the only downside is the weight.    Mares states the weight of the first stage with a INT/Yoke vale as 964gm, and the second stage as 329gm, with a total weight, including the supplied regulator hose, of 1429gm.   This does not include the octopus or SPG.   If you get a DIN valve, the system weight reduces to 1255gm.    This is heavier than the XTX200 (1272gm for the INT/yoke), ATX (1130gm for the INT/yoke) and of course, the Aqualung Mikron spanks them all with its waif-like 893gm in the same INT/yoke configuration.    However, leaving aside the travel-oriented Mikron, the weight difference compared to other top of the line regulators isn't that significant, and shouldn't be an issue from a travel or packing point of view (and in the grand scheme of things, paying for an extra kg of excess baggage is not even a rounding error, compared to the overall cost of a typical dive holiday).
USE EXPERIENCE/ USER EXPERIENCE
Our intrepid testers, Dev and Arijit, bravely took this regulator, along with the ATX, the Abyss and the Mikron all the way to the depths of the ocean – or atleast, part of the way down the Wall and swapped multiple regulators back and forth at depths which we shall not reveal, while possibly being narced (the things we do in order to play with shiny gear – please don't try this at home.   Dev and Arijit are professionals).   A fun time was had by all, and there may have been underwater giggling, but since we don't have any videographic evidence, we wont pursue that line of discussion further.
The breathing from the Epic was as natural as it could get – regardless of depth.   There was no sense of strain at any time, and the regulator was comfortable to breathe at all head angles and body orientations.   Absolutely no complaints.     When turning both the flow control knob and the resistance control knob to their "max flow" positions, a slight tilt of the regulator did make it free flow – but this was with the regulator out of the mouth, and there is absolutely no reason for anyone to keep these 2 knobs set to max when the reg isnt being used.   So in practice, a non-issue.
The entire first stage, including the yoke clamp, is beautifully finished
The only issue was the weight of the second stage, which made a little awkward to hold in the mouth.   The VAD system didn't help with the weight or the balance of the regulator in the mouth.      However, to put it in perspective, this wasnt extremely awkward or uncomfortable – merely noticeable.     It is something that you definitely notice if you were, oh, i don't know, swapping back and forth between regulators at depth – but if you were always diving with the same regulator, I think you could probably get used to it as well.
In terms of comparisons:   the easiest regulator to breathe was, surprisingly, the Aqualung Mikron.     This small, plastic, lightweight wonder provided air like an excited Labrador provides drool – in vast, vast quantities and at the slightest provocation.    It has provided more than pretty much every other regulator we have tried – from the entry-level Aqualung Calypsos to the mighty Apex XTX200.    But it is also a little more prone to flee flowing, so there is a trade-off there (do note – it can be tuned to be a little less enthusiastic – a service we provide at no charge if you buy it from us).      The Epic 82X was the next best, with a near-perfect balance between breathing resistance and risk of free flow.    The ATX, the cheapest regulator on test by far, was, by comparison, slightly harder to breathe (but comfortable nonetheless) and did not free flow at all.   The Abyss was the hardest breathing of all 4 and by a significant margin.
So what does this mean?    Should you run and buy the model with the lowest breathing resistance and maximum flow?     In principle, yes, you want the regulator with the lowest breathing resistance and maximum flow.   If you are swimming in a current or working a bit harder, this gives you the comfort of knowing that you are not going to "overbreathe" your regulator.     However, there is a cost associated with this – tendency to free flow.     Keep in mind that the differences above end up being more noticeable when you do a direct comparison:   in normal use, you may not notice.     The Abyss in the test above is one of my two personal regulators, and I have never noticed or felt that it was hard to breathe.  Only when I did an A/B comparison with my XTX200 did I notice the difference.      And I actually prefer a very slight amount of breathing resistance over a fire-hose.   So personal preferences and breathing patterns, as discussed earlier, also play a role.
Of course, Mares being Mares, they are simply unable to release a product without adding atleast one completely unnecessary and useless quirk – but atleast they have gotten to the point where these quirks usually no longer affect the  functionality of the product, but just make you scratch your head and go "err.. what?".   I call it the "Nipples on a Bull" feature.    For example, on the otherwise fantastic Mares SLS Pure, a BCD that I reviewed in some detail and loved enough to purchase, they added a ridiculously over-engineered locking mechanism for the weights that serves no practical purpose other than to be different and just adds one extra and un-needed step to locking in the weight pocket.   On the Epic 82X, this Nipple-on-a-Bull feature manifests itself in the purge valve.  Now, on most regulators, the external purge is something that you can press anywhere on the surface and it depresses straight in.   On the 82X, the purge valve doesn't go straight in but pivots.     Mares is very proud of it, too – this is boldly listed as one of the features of the regulator, along with PVD, VAD, PAD, GFY and the rest of the alphabet soup.     Luckily, as i said above, this quirk doesn't actually affect the functionality and by now, is becoming a somewhat endearing trait of the brand that I look forward to on my reviews.
This is like using a fork and knife to eat a pizza at Pizzeria da Michele – it doesn't affect the taste of the pizza, thankfully
SUMMARY
Let me cut to the chase there:   this is a fantastic regulator.    Great looks, superb functionality, a lot of adjustability to meet individual breathing preferences and great ergonomics (and that too, from Mares – I guess the lessons from the Hub finally have been absorbed!).    To me, there is no question that it deserves its place in the pantheon of the top regulators in the market, such as the XTX200.
However, with a MRP of Rs 51,750 and even factoring in our special pricing on this (hint hint), this regulator faces the same challenge that other top-end regulators do:   is it worth paying the premium over something like the ATX, which is less than half the price?   This is a tough call.     The logical part of me says – the ATX is functional, it does everything you need it to do.      And you can make the same argument about entry-level computers like the Mares Smart and the Aqualung i200.   So why, then, do I dive with an XTX200 and an Abyss, and have a Shearwater Perdix (for which I paid full retail, btw)?     Hell, why do we drive anything more than an entry-level compact in cities, or pay a premium for anything?
It really is very simple:  the additional features, while not strictly essential, are definitely nice to have and make things a lot more enjoyable on a daily basis: the ability to adjust hose routing on the XTX200, the ability to fine-tune the air supply on the Epic 82X, the amazing display and features of the Perdix – these are things that you only appreciate when you have them.   And once you get used to it, you don't really want to go back to a more utilitarian model.     So yes, while there are plenty of very reliable regulators at a lot lower price, the additional features, superior ergonomics and yes, the drop-dead good looks of the Mares Epic 82X certainly make it a regulator worth considering if you want something higher-end.
Especially at the great prices that we have for this model.  
Contact us
if you want to purchase this unit.