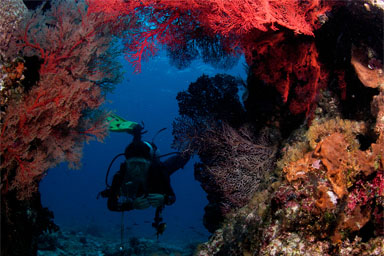 Scuba Diving Courses Andaman: Learn Scuba Diving
For those interested in learning to dive, we offer the Open Water Course.
Contrary to popular belief, you don't have to be an expert swimmer, or a daredevil adventurer in order to dive. Recreational diving is one of the safest sports around, and is suitable for everyone from the age of 10 to 65-plus. All you need is basic swimming capabilities, moderate fitness levels (ability to walk a kilometer or two without fatigue) and good health.
The Open Water course consists of 3 sections:
– Academic development: Here, you learn the theory of diving. This is covered in a mix of video, self-study and instructor briefings
– Confined water training: here, you master the essential skills of scuba, starting from the simple (breathing underwater) and working your way up to complex (removing/replacing your equipment underwater)
– Open water dives: now you get a chance to apply everything that you have learned by actually diving. We do 4 dives in the open water, where you repeat some of the skills that you learned earlier, and where you also get a chance to dive, enjoy yourself and soak in the wonders of the underwater world.
At the successful completion of this course, you receive a certification card from PADI or SSI, two of the largest diver training agencies in the world.
A quick word on these agencies: either of these cards will let you dive anywhere in the world – both are universally accepted (contrary to a popular misconception that one works better than the other). They are also interchangeable (you can start with one and switch to another, and each agency recognises the other's cards). Regardless of which option you choose, you get a high-quality course. There are some minor differences in curriculum (more so at higher training levels), add-ons and pricing, and these, rather than brand, should form the basis of your decision. Our instructors will be happy to work with you in selecting the course that is just right for you – contact us for more info.
Typically, the Open Water course lasts 4 full days. However, we recognize that different people learn at different speeds – besides, you are on vacation and may want to spread out your training. So, the time to certification can be more or less. Two things are for sure: we will not rush you, and we will not compromise on your training.
The DIVEIndia approach: As with our diving, we believe in small groups and personalized attention for training. With our large staff of instructors, we are able to keep our classes small – usually 4:1 or better student:professional ratio – ensuring that you get all the personal attention that you need. Furthermore, as with all our courses, we go WELL beyond the bare minimum in terms of how skills are integrated, in terms of amount of in-water time you will get and also the degree of comfort and mastery that we impart before certifying someone.
Please keep in mind – just as all coaches, teachers and colleges are not the same, neither are all diving programs the same. We conduct what we consider to be one of the best Open Water training programs you will find in Asia (and even elsewhere): we have one of the most experienced teams of instructors in the region, we go well above the bare minimum in terms of standards and our goal is to actually make you a qualified diver, not just check off a set of skills and let you go. Think of the difference between learning a subject and learning to pass an exam – that sums up the DIVEIndia difference.
If you have any health-related concerns about learning to dive, please download the Medical Statement form which goes over a medical checklist. If you answer "yes" to any of the questions there, please get medical clearance from your doctor prior to reaching Havelock. You will need one separate clearance for every question to which you answer "yes."
We highly recommend you club the Open Water Course with the Advanced Open Water Course.
The PADI Advanced Open Water course / SSI Advanced Adventurer (same rose, different names) consists of 5 dives: two are mandatory (Deep Dive and Underwater Navigation – Night is highly recommended), and for the remainder, you can choose from 15 options, including Night, Computer, Naturalist, Buoyancy, Wreck, Boat, Underwater Photography and lots more.
This is a practical course (emphasis on in-water training) and is meant to give you experience in diving under different conditions, as well as provide you with a deeper understanding of dive theory, planning and techniques.
And the reason we suggest clubbing the two courses is because it has the following benefits:
– you learn more and become a significantly better diver when you do both the OW and the Advanced
– you retain your skills longer, as you are better able to internalize the diving skills
– you are able to dive to 30m and thereby visit some of the best sites of the Andamans
– our Open + Advanced combo works out to be staggeringly good value
You do not need to commit to this in advance, but if possible, try to keep 2-3 days extra on hand after the course for this. Virtually every one who has done the combo has loved it.
View
Rates
Havelock
Accommodation
Neil
Accommodation
Download
Medical Form