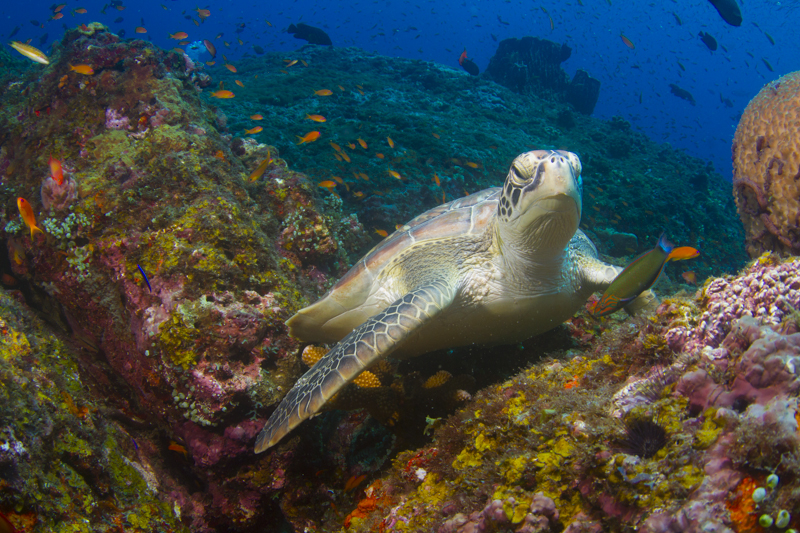 SCUBA DIVING IN THE ANDAMANS – FOR NON-SWIMMERS
One of the most common question we get from people coming to the Andamans and wanting to try scuba diving (or even from people who want to try diving in their home city) is: "I don't know how to swim – can i try scuba diving?"
Can you scuba dive if you can't swim?
The answer is:  yes, you can
To get certified as a diver, you need to know basic swimming (ability to float or tread water for 10 min, swim 200m unaided/300m with mask-fins-snorkel). However, to do introductory scuba diving program such as Try Scuba or a PADI Discover Scuba Diving program, swimming is not required.
So what is the difference and why?
The introductory scuba diving program, be it the very basic Try Scuba or the more immersive/experience-rich PADI Discover Scuba Diving, is designed to give people a taste of scuba.  There is a dive professional in the water with you at all times, who is responsible your safety during the program.
The certification course is designed for people who want to take up this amazing sport in a more in-depth manner, and who want to keep exploring the oceans in different parts of the world – it is designed to create divers who are trained in diving procedures and skills, including safety/emergency procedures, and who can dive without professional supervision.   As such, swimming is a requirement.
So why do people go through all this trouble to get certified?  Can't they just do more introductory scuba experiences wherever they go!
Well, yes, they can.  Nothing wrong with that and many people do just that.
However, the intro programs are all designed to be just that – intro.   While the instructor does handle your safety in such cases, there are several things that the instructor cannot do for you.   So all responsible dive centers conduct the Intro to Scuba / Try Scuba / PADI Discover Scuba Diving programs in locations where the conditions are benign, predictable and as much within the instructor's control as possible.
For first timers, these is still a marvellous experience – virtually everyone who tries scuba for the first time comes out having experienced the "wow" factor.
But… the "wow" becomes "OMG I CANNOT BELIEVE THAT WOWOWOWOW!!!" when you get certified:   it is yet another level of amazing when you are able to go deeper.   That's when you get to have experiences that match what you see on Nat Geo.   And for that, certification is indeed required – as is swimming