The Deepblu Cosmiq+ is an entry-level dive computer and one of the more interesting units I have had a chance to try out of late.
Headquartered in Taiwan, Deepblu positions itself primarily as a community and marketplace for divers first, and gear manufacturer second.   So it is not surprising that their dive computer also emphasizes this community aspect, and also relies heavily on a smart phone for controlling and uploading, eschewing the desktop-based apps of the traditional manufacturers.
Read on for a hands-on review of its pros and cons, as well to find out whether it makes our recommended kit list.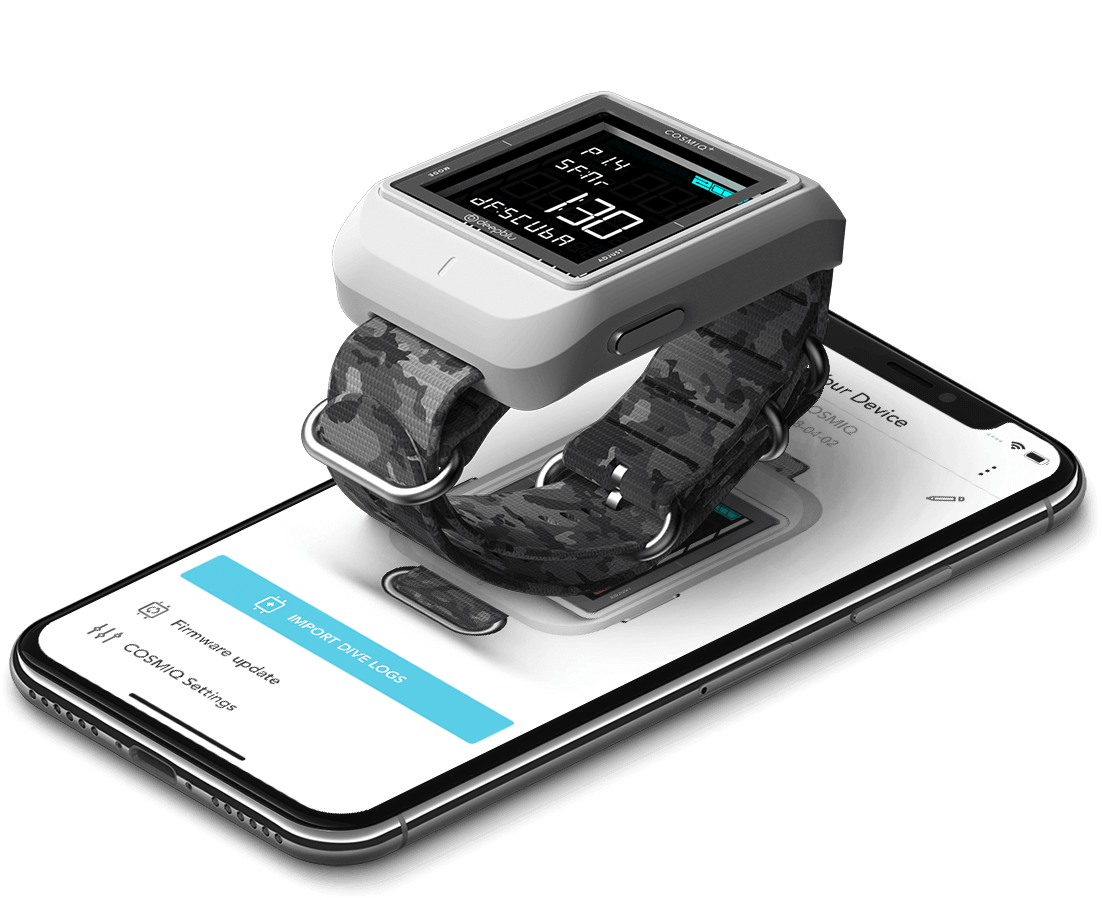 THE BASICS
The Deepblu Cosmiq+ dive computer is an oversized, entry-level model designed to be easy to read and easy to use.   It came packaged in a nice hard case, inside of which you find the computer and 2 straps that match the accent color of the computer.
The Deepblu Cosmiq+ comes in a nice, sturdy case.
You have a choice of accent colors when you buy the computer – the one I got was pink (my wife claims that it is lilac or maybe lavender, but I don't believe in those colors.    Pink it is), and so the 2 matching straps were in pink:  one in a solid color and the other with a camouflage pattern.      Yes, you read that correctly – a pink camouflage pattern.
I have pink sneakers, pink slacks and pink shirts (and no, I don't wear them all at once), so I am a sucker for pink.    And once I got past the ridiculousness of the concept of pink camouflage (make up your mind, bro – do you want to be seen or not?), I had to admit that the color actually looked quite funky – and it also matches with a few BCD and masks that we sell, so there is that.
The straps are NATO-style pass through straps and are super sturdy – there is near-zero chance of this computer coming off accidentally, no matter what you do.   And they will last a lot longer than rubber straps too, which can become brittle with age.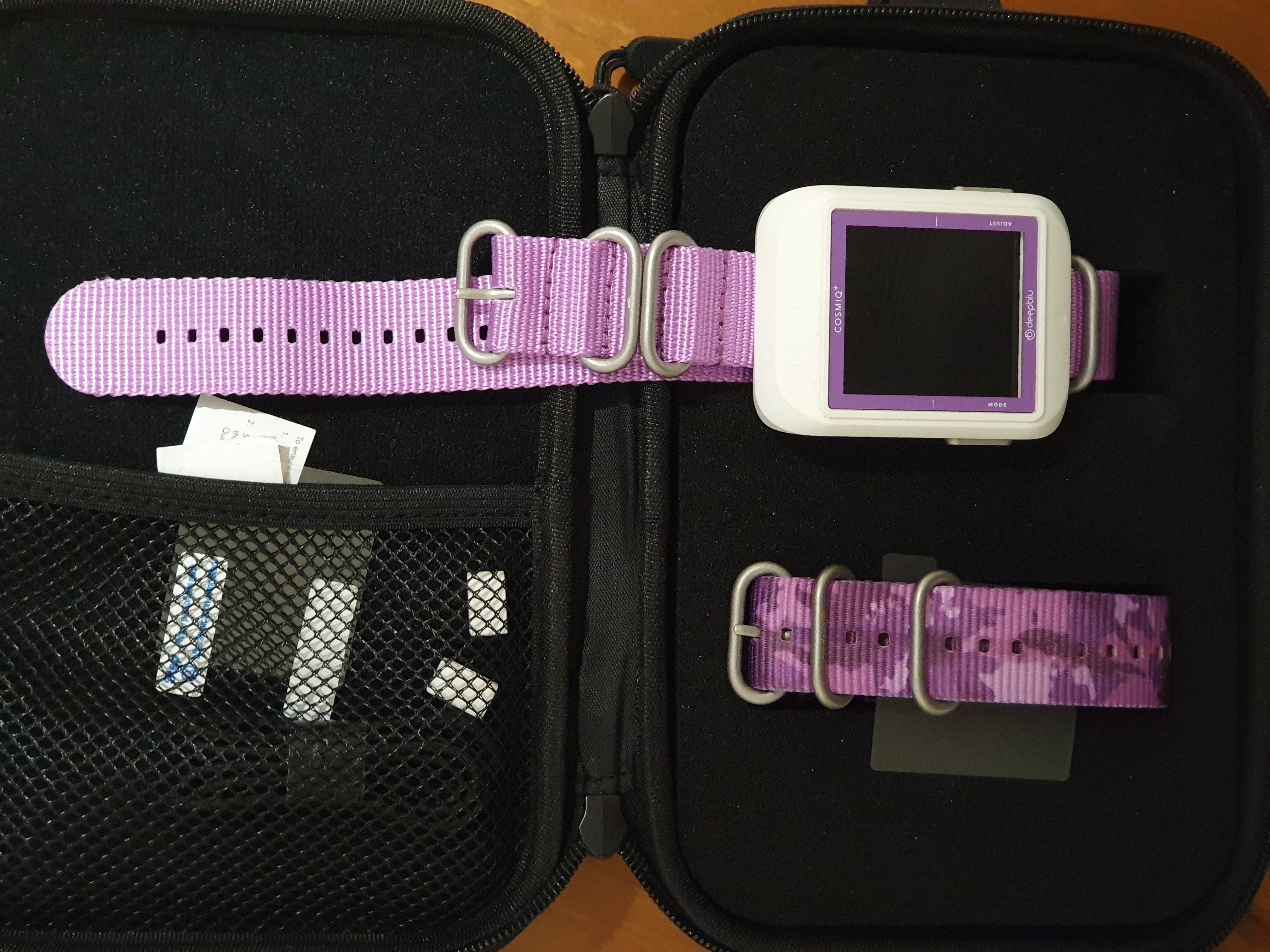 Inside the box are the computer and 2 heavy duty fabric straps.
The case itself is a nice sturdy unit and packs the computer safely and securely.     Now, unlike a watch-sized computer which you can just wear when you travel, oversized computers typically get carried in your carry-on bag.    Many people prefer to use a padded box for carrying their dive computer – while you can use this box for that purpose, it is a little too big for carry-on (and you shouldn't be checking in your dive computer).     Compare that to the Shearwater, which comes in a really compact case that is perfect for the computer and a couple of spare AA batteries.
But then, you can buy 3 of these computers for the price of a Shearwater, so it is not a perfect comparison.   And in any case, given carry-on weight restrictions, I personally don't really use any boxes.   I just toss my Shearwater into a pocket in my bag and leave it there – it is sturdy enough and I haven't had any issues.     Given that this computer also has a hard plastic case, I wouldn't expect any issues with it either.   Wrap it in a sock or T-shirt, if you must or stick a screen protector on the display.
The Cosmiq+ case vs the Shearwater case.
FEATURES
As mentioned, the Deepblue Cosmiq+ is an entry-level computer designed for recreational divers.   So obviously, you don't get tech features like use of gas mixes containing more than 40% O2 or the ability to switch gas mixes.   You also miss out on some nice-to-have premium features such as air-integration & built-in compass – but that is to be expected at this price range (you typically will need to spend Rs 10,000 – 15,000 more to get those features).
What the computer does have are the essentials, as to be expected from even entry-level dive computers these days:   ability to use nitrox mixes up to 40%, a gauge mode and a free diving mode.     It has the usual full set of alarms – depth, time, deco, ascent rate, MOD/PPo2 violation, CNS O2 Clock limit and more.    And it packs all of this in a lovely, oversized display with a lot of contrast and which is very easy to read.
ALGORITHM
The Deepblu Cosmiq+ uses a Buhlman variant as its algorithm – the industry standard which has been around for decades.   Does it have fancy features like heart-rate related adjustments, or RGBM and such?    No.     But the Buhlman algorithm has withstood the test of time and proven itself to be safe and reliable – and as far as I know, the human body hasn't changed significantly over the past 30 years.
As someone who once used to geek out on the latest decompression algorithms, I have realized that for recreational diving, this plays a very minimal role in safety – different algorithms may produce numbers that vary, but in the real world, as long as you follow sensible diving practices, any algorithm in a mainstream dive computer is more than capable of keeping you safe.
To provide additional flexibility in terms of matching the algorithm to your personal preferences, you can adjust the algorithm on the Cosmiq+ to be normal, conservative or progressive.
The normal implementation of the Buhlman on the Cosmiq+ is quite conservative to begin with, compared to both my Shearwater and my Suunto D9Tx (set at 50% RGBM).   At 24m, the Suunto gives me 29 minutes of bottom time, the Shearwater gives 26 min and the Cosmiq+ gives 24 min.   At 30m, the difference is even more stark – 18 min for the Suunto, 17 for the Shearwater and 14 for the Cosmiq+.
The Cosmiq+, compared to my personal dive computers – the Shearwater Perdix and Suunto D9Tx
On subsequent dives, the gap to the Suunto narrows, as the Suunto's RGBM algorithm tends to be more conservative compared to Buhlman.      But it is still on the conservative end of the scale – although not as excessively so as something like the Suunto Zoop.
That isn't a bad thing –  for beginner divers, having slightly more room for error isn't a bad thing.    And as you gain experience, improve your diving discipline and also gain familiarity with diving algorithms, you now have the option of using the progressive option – I did not have a chance to test it too extensively, but from the few dives I did on it, it seems to be a "sensible" degree of progressiveness that should work for most experienced divers.
And obviously, if personal or other conditions warrant, you can set the computer to be even more conservative.  So very sensibly done.
Lastly, this computer is not designed for decompression diving, and going into deco will punish you fairly heavily, in terms of bottom time for the next dive.     Which is fair – you should not be doing decompression dives if you are not trained for it, and if you are trained for it, you should know better than to use a recreational computer for that purpose.
SIDE NOTE ON CONSERVATIVE / PROGRESSIVE COMPUTERS
On one hand, we can all agree that more conservative is always better – atleast as a general philosophy and approach to diving.   On the other hand, if you have spent good money going on a diving holiday, do you really want to cut each dive short by 10-15 min because your computer is less conservative?    So which is better?
To start with, keep in mind that there is no "correct" number.     The No Deco Limit isnt a hard line, but a probability curve, and algorithms are basically a mathematical model fitted to simulate the probability curve of getting DCS for a vast and varied population of people.     So each number is, to some degree, an arbitrary cut-off point on the probability curve which is deemed "safe enough" for most people, with an additional safety margin added on.
Experienced divers often have a good idea of which algorithm has worked well for them and may choose a more progressive option because they are disciplined enough not to need a lot of additional safety margins:   they build it in themselves.    Such divers typically also tend to be more aware of conditions that may increase their pre-disposition to DCS and so know to be more conservative if those conditions apply, and so are able to handle this well.    In other words, they also keep their brain engaged while using the computer.
On the other hand, beginner divers may still be developing their diving discipline and awareness of NDL, depth and air.     They may also not have the best buoyancy and be going up and down a little.   In such cases, a more conservative computer may be a better option, as it gives them a little more margin for error (which, to be very clear, is NOT something that you ever plan to rely on!).
Gun to head, if you force me to pick an option, I will pick a more progressive computer, as you can always make them more conservative by tweaking their settings.    That said, if you are a diver who is at a greater risk of DCS (age, weight, other factors), or if you feel that you would benefit from a greater safety net, or if you are more risk averse, then yes, a more conservative option might be better for you.
BATTERY
The next key feature that I think is important is a rechargeable or user replaceable battery.     I am happy to say that the Cosmiq+ comes with a rechargeable battery – it comes with a USB cable with a magnetic charger on one end, which snaps to attach to 2 contact points on the underside of the body.
The magnetic charger and the contact points on the Cosmiq+
However, the battery life of the computer needs improvement – I tested it in Raja Ampat, where we were doing 3-4 dives a day, and it did not always last 2 days.    I'd estimate the battery life at around 6-7 hours or so from a full charge (which I never got – I will talk about that further down).      To be safe, I would recommend charging it every day if doing 3 or more dives, and definitely every 2 days.
Is that ideal?   Depends on what you like.   My Shearwater uses a AA battery and gets well over 30-35 hours of battery life with the air transmitter connected.    And if I have an issue, a AA battery is one of the easiest things to find.     On the other hand, this makes for a large form factor and the spare battery is still one extra thing to carry (and make sure it is fully charged) – whereas with the Deepblu Cosmiq+ all you need is its USB charging cable and a USB output, and you are good to go.    But you do have to charge it regularly.      Personally, I am not used to  charging my computer regularly, and having had this reinforced for 30 years, I have a "get off my lawn" moment at the idea of needing to do so – even though I, like almost everyone else, have other devices that I do charge daily without complaint.  Go figure.  Whether this is an issue for you is a personal choice.
The magnetic charger attached to the Cosmiq+ body – this is not a very secure connection

And speaking of charging:  my other issue with battery life is related to the reliability of the magnetic connector of the charging cable – in my experience, this was not very robust and was dislodged a bit more easily than I would have preferred:  sometimes, the very act of putting down the computer after attaching the charger to it would cause the connection to become loose.     On more than one occasion, I woke up in the morning to find that the charging cable had come loose at some point and the device had not charged properly.   Luckily, this was my backup unit, but if this was my main unit and I woke up with an uncharged dive computer and 3 dives to go in Raja Ampat, I would have been very upset!
To be fair, once I became aware that the connector was a little finicky and easily dislodged, I started taking extra care in how i put the dive computer down after attaching the cable and did not have any problems afterwards.    But for someone like me, who isn't really good with being so fastidious with things like charging cables, this is something I would prefer to avoid entirely.
Reading the specs, the battery life is supposed to be 8 hours – a fair bit more than the 5-6 hours I got out of it – and I wonder if my woes had something to do with the connector woes.   Also, to be fair, you can reduce the brightness of the screen (it is VERY bright by default – cutting it in half will not affect legibility and significantly increase battery life).
But be that as it may, this is definitely an area where the Deepblu Cosmiq+ could be improved.
USING THE COMPUTER
Due to some last minute issues, I only had 3 hours to pack my dive gear and my camera system before leaving for a Diveindia Outbound trip to Raja Ampat – in that hectic rush, I completely forgot to read the Cosmiq+ user manual before leaving.   I chucked the computer and cable into my bag, and carried on packing.
At breakfast on the morning of the first day of diving, I was doing what I always tell people not to do – trying to figure out a new computer.   Luckily, it was surprisingly easy to do:  the computer has 2 buttons and remarkably easy-to-understand interface:   pushing one button changes between modes (and icons at the top of the screen tell you what mode you are in), pushing the other button lets you make some changes.   About the only changes I wanted to make were the nitrox setting and it took me perhaps 2-3 minutes before I figured it out.   That's a win.
The computer turns on automatically in the water and the display is very bright and legible.     Not only that, it is very sensibly marked and it is very easy to see all your dive information – depth, time, NDL, MOD and more.  There are visual indicators to indicate how much NDL and CNS O2 Clock you have left, and also alarms if you go up too fast.    The safety stop countdown is also easy to read.
One of the biggest challenges with many computers is that the deco screen can be quite confusing to divers who inadvertently end up exceeding their NDLs.    I personally know of atleast 2 cases  where divers did not realize that they had gone into deco, and continued diving, assuming that their deco time was their NDL (and oblivious to the fact that this number was increasing).    As you can guess, that could have been very, very dangerous.
Not so with the Cosmiq+.    I did end up putting the Cosmiq+ into deco on one dive, because I was using my Shearwater for the dive profile and just using this unit for comparison.         There was absolutely no mistaking the information – the computer clearly told you that you were in deco, by how many minutes you had exceeded your limit, how much deco you had to do and what depth you should ascend to (and all this info was clearly labelled and displayed in a manner that made it nearly impossible to confuse with the regular display screen).
Overall, the additional screen size of the oversized computer has been put to very good use here and information is displayed cleanly and with proper labelling  – unlike many manufacturers, who use the same screen logic on small and larger computers, just with bigger fonts.
Mantas on Manta Ridge, Raja Ampat (Dampier Strait)

THE DEEP BLU APP
And now we come to what sets this computer apart from the rest:  the DeepBlu App, available on Android and iOS.
The App let you do a lot of things – log your dives (you can pair other brands as well), post your dive photos and see posts of other divers in a social-media-like setting, learn more about dive sites in various locations, stay in touch with your dive buddies, and join clubs/groups.    It also lets you change all the settings of your computer very easily.
The day after my first dive, I tried to set up the app.    Yes, I know normal people would do it before, especially given how the app is the ideal way to set up your computer, but I was in Raja Ampat, this was not my main computer and I got distracted, ok?
The  first thing it required me to do was create an account – I could link to my FB or use an email.   I went with the latter.     The app sent me a confirmation email with a code I was supposed to enter.  10 minutes later, I still hadn't gotten the code.   So I gave it up and went outside to look at stingrays playing under my water bungalow's balcony,.    He, Raja Ampat vs messing around with my phone?   Phone is gonna lose every single time.    Instead, I continued to set the nitrox mix directly on the computer – something I was able to do without RTFMing (which is good) or needing the app (also good).
After a few days, I remembered about the app and tried again.    This time, I was able to get the verification code and register properly.   Then I tried pairing the Cosmiq+ to my phone – and nothing happened.   After 3 attempts, I ended up hitting Google for answers: clear the DeepBlue app data and try again.   Ok – and hallelujah, this worked.    Pairing was easy and after this, consistent.
As mentioned earlier, the App is a combination of a social media platform for divers, review site, online dive log and controller for your dive computer.    It has 4 main sections:    Discover,  Planet, Community and Menu.
The "Discover" section is like a mini Facebook/Instagram for divers, where you can share your photos/dive log and see details of other people's dives.    The "Planet" section is a review/information section, where you can research dive sites, read and post ratings and reviews and get all sorts of dive-related info.
The "Community" section lets you follow various groups, such as dive clubs, groups belonging to various dive operators, etc.      In the interest of full disclosure, I did not spend too much time on these features.
Lastly, there is the "Menu" section.     This is where you can adjust the settings of your dive computer and wirelessly upload the dives from the Cosmiq+ dive computer to the app.   Then you have the option of sharing those dives as part of your own feed in the community section, or just keeping it private for your own viewing.
Uploaded dive logs are found in the "Menu" section
The "Menu" section also lets you add buddies, see your dive log, edit app settings and, as mentioned earlier, set up your dive computer.       You can change units, salinity level, conservative factor, nitrox percentage, screen brightness and also set various alarms, all on the app.
This is a really smart idea – one of the biggest issues with computers that I see on dive trips is people not remembering how to set their computers and fumbling around before the dive, pushing buttons at random.     The app eliminates all that – switch on your phone, make the settings on the app and voila, your computer gets set automatically.
Of course, the downside is that you need to have your phone with you.    On many dive boats and liveaboard dive platforms, this may not be the case.       The good news is that most of the settings are not things that you would change on a dive to dive basis – mainly, only the nitrox mix.   And this can be done without a phone, if need be.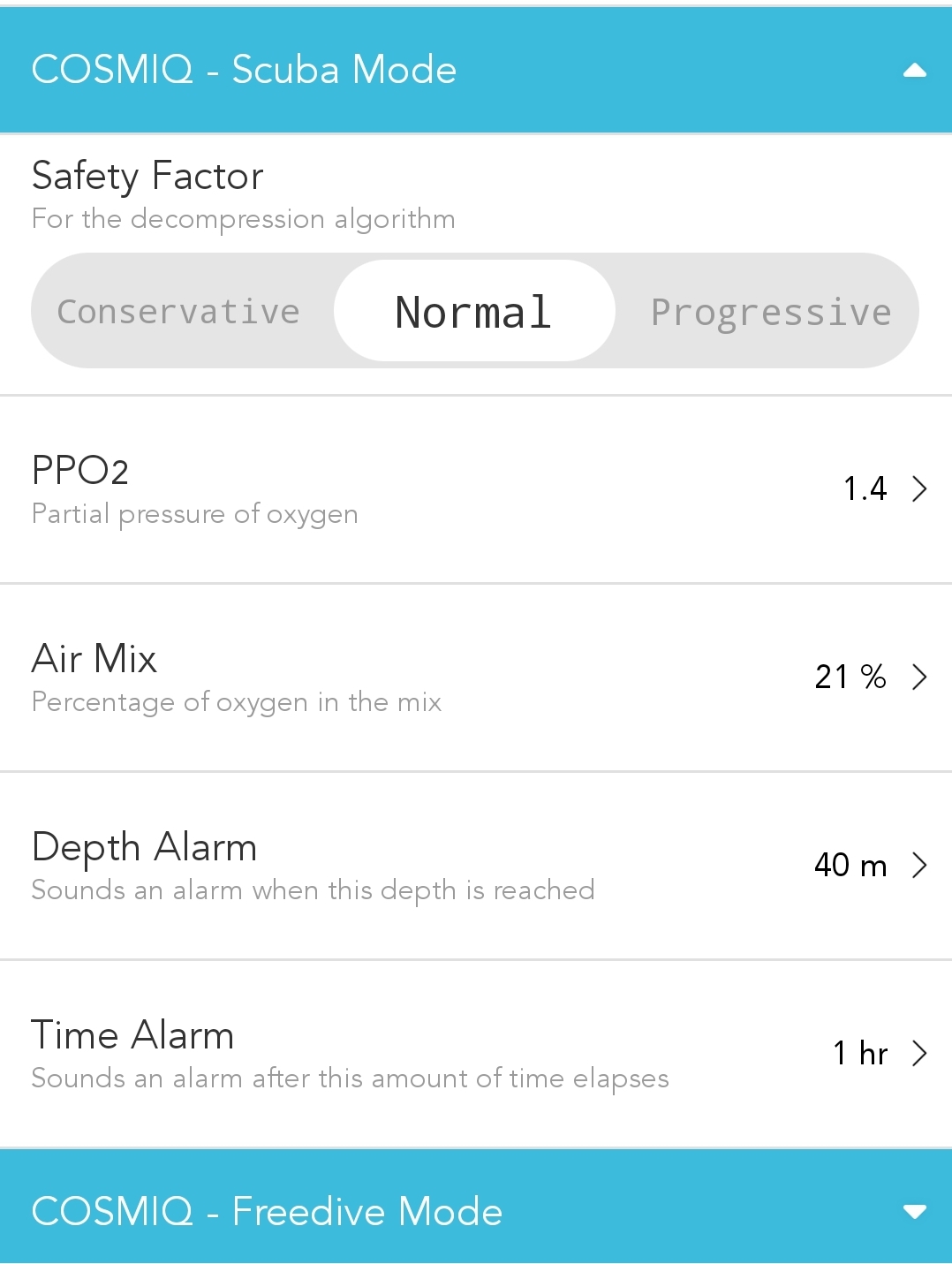 The "Menu" section also lets you adjust the various dive settings of the computer
Adjusting the settings is very easy and intuitive

SUMMARY
So in summary, would I recommend it?
The computer has a lot going for it – a bright and legible display, well-labelled information presented in an easy-to-understand format (one of the best I have seen in an entry-level computer and which mitigates one of the biggest failure points of dive computers:  user error) and easy to set up/sync via the app.      It was very easy to use and overall, a really nice dive computer.   And, of course, the fact that you can tweak the algorithm up or down to meet your preferences is a huge positive.
However, there are 2 downsides to the unit.
The first is a matter of personal preference – for me, I strongly prefer watch-sized computers.  My Shearwater Perdix is the first oversized dive computer I have used since 2001 and while I love it to bits, I am seriously contemplating selling it and getting a Teric mainly for the small form factor.   The reason for this is that it is easier to travel with the computer and also, easier to manage it on a dive boat before and after a dive.   Of course, on the flip side – the larger screen is also why the information is presented so clearly and legibly, so there's the tradeoff for you.
The second is more significant, however:   the below-average battery life and connection system.      Are they deal breakers?    Absolutely not.     If you are careful with how you attach the charging cable, and are ok with doing so every day or two while on a dive trip, it is certainly something that can be managed.   It is, however, a potential – and foreseeable – problem if a diver is careless or forgetful.  From what I have seen, many divers do tend to be a little forgetful on holiday and all it takes is one such incident and you can potentially end up messing a day's worth of diving.
So for that single reason, the Cosmiq+ does not make our Recommended Gear list– that selection is reserved for gear which we think is the best fit for most people, and can be recommended without any qualifiers.   To be honest, it is a bit of a shame as otherwise, I really do like this dive computer.    However, at this price point, the Cosmiq+ is competing with the Mares Smart and the Aqualung i200.   Both have a watch-sized form factor, sensible algorithms and while the display isn't as sexy and you do need to read the manual to understand the settings, the battery life on both is significantly better and so there are fewer caveats about usage.
However, that is not to say that the Cosmiq+ doesn't deserve consideration or is not competitive – the legible display, app-based settings and cloud-based dive logging  make it a refreshingly different alternative in a world of otherwise fairly similar entry-level computers.   If the battery issues are something that you can work around, it is definitely worth considering (and arguably outperforms the other options in its price range).
So yes, I would recommend it, but with the caveats described.
Reviewed by: Vandit Kalia (Vinnie), resident gear head of Diveindia.   This unit was provided as a demo for testing, and was returned after the test period was over.   As always, these reviews represent our honest opinions on the product in question – we are beholden to you, our divers, and not to manufacturers.

DIVEIndia has the DeepBlu Cosmiq+ available for sale at a very competitive price – if this computer fits your needs, please contact us for current pricing and to purchase.

UPDATE FROM THE MANUFACTURER
Apparently, the battery life issues were not just limited to me:  Cosmiq has recognized that and released a firmware update that improves the battery life, as well as a Gen 5 version with a larger internal memory for logging 200 dives, as opposed to 25.   Supposedly, there is also an upgraded charging cable as well.  If the battery life issues have been resolved, then yes, this computer makes it on to our Recommended Gear list.   We will update the review if and when we get a chance to try out the newer version.